Left Coast T-Shirt Company - Meet Our Staff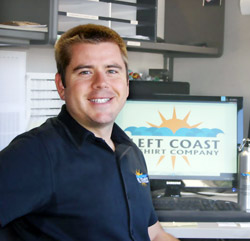 David Whitaker started Left Coast T-Shirt Company, his second business, in early 2003. He started his first business, an ecommerce company, in 1999 while simultaneously studying computer science and working as a programmer at Cal Poly, San Luis Obispo. A desire to save on printed apparel for his existing company led him to begin his own screenprinting operation which eventually moved to the forefront. David sold his first business, the ecommerce company, in 2006, after simultaneously running both companies for three years. He then turned all of his focus to operating Left Coast T-Shirt Company. As with most residents of San Luis Obispo, he does whatever he can to find some time outdoors. In fact, on any given day off he may be found scuba diving, rock climbing, swimming, biking, running, or traveling.
David is also a graduate of Leadership SLO, class 17, and an active participant and volunteer at the San Luis Obispo Chamber of Commerce.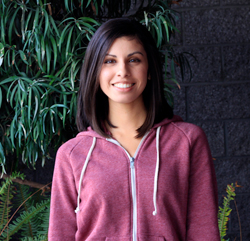 Noemi Vargas joined our team as a Customer Service Assistant but quickly worked her way up to Customer Service Manager. A Central Coast native with a love for cinnamon rolls, Noemi graduated from Cal Poly with a degree in Graphic Communication. When not working, she enjoys the sunny weather while spending time outdoors hiking, taking a stroll on the beach or camping with family and friends.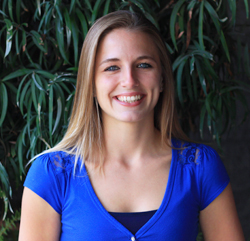 Danielle Hoppa Born and raised in San Diego, Danielle Hoppa has been with our company since February of 2015. Before becoming a talented Office Supervisor, Danielle enjoyed playing the trumpet throughout middle and high school. She was even a drum major her senior year of high school! She also enjoys family movie nights, baking, listening to music, and spending the holidays with her loved ones.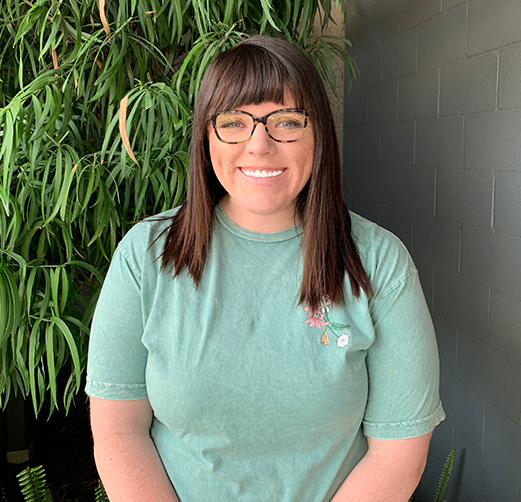 Kristen is a customer service rep here at Left Coast and our resident dog treat provider. She is a Chico State graduate who moved to the area in 2019 for a change of scenery. When she's not at work you can find her out enjoying a cupcake or petting every dog she comes into contact with. Did we mention that she loves dogs?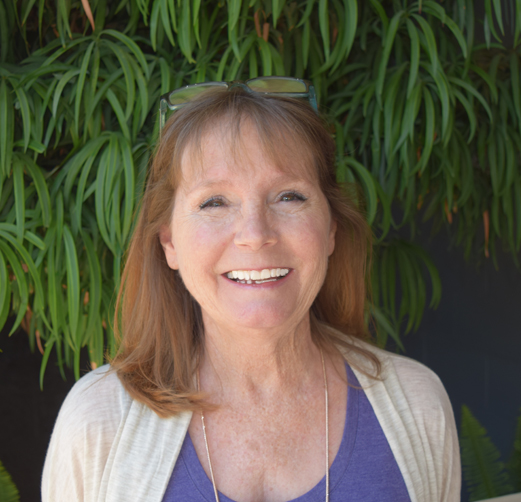 Vicki is our office assistant at Left Coast and came to us from the corporate world. She has lived on the Central Coast the majority of her life and is a graduate of Paso Robles High and alumni from Cuesta College. Outside of work, she enjoys spending time with her twin grandsons and two adorable grand-daughters. She also enjoys trips to Vegas, jigsaw puzzles, movies, the beach and game night with friends and family.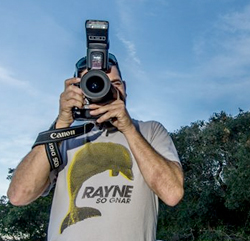 Adrian Piña is one of our skilled graphic designers and Photographers here at Left Coast. Born and raised in Los Osos, Adrian moved to Long Beach to attend college and graduated with a 4.0 GPA as the salutatorian of his class. He has since moved back to the Central Coast and has two beautiful children. He is passionate about all things skateboarding-including skateboard art!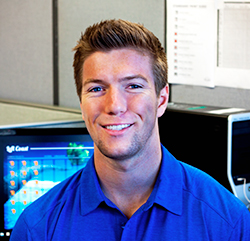 Evan LaForce In June of 2015, we were lucky enough to have Evan LaForce join our team as a Graphic Designer. Originally from Santa Rosa, Evan moved to beautiful San Luis Obispo to attend Cal Poly. He loves the outdoors, listening to music and working out. He is also an avid golfer and self-proclaimed pick-up-basketball MVP. He hopes to eventually move to the big city to pursue bigger ventures in Graphic Design, Marketing and Apparel Design.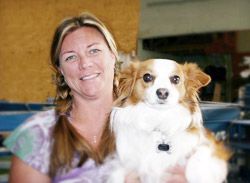 Christie Greening is our screenprinting manager. With over twenty years of experience in screenprinting, she personally oversees all print production and print staff. Christie initially moved to the central coast of California for college and it was here that she discovered a passion for printing. She joined Left Coast T-Shirt Company in its youth, bringing with her hands-on experience and expertise. When not working, she is likely to be found playing volleyball. And being an avid hiker and camper, Christie loves to take advantage of the natural beauty of San Luis Obispo County.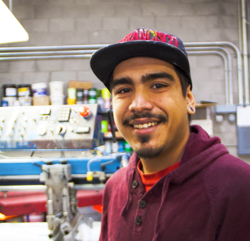 Sam Spevack Our highly seasoned printing press operator here at Left Coast, Sam is SLO raised and Life long resident. On his free time Sam enjoys play guitar, listening to music, playing golf and time with his animals.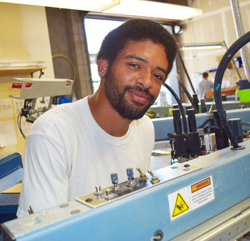 John Carter is an upcoming printing press operator here at Left Coast, and loves Downtown SLO. If he's not here working diligently to make sure he is outputting high-quality prints, you can find him supporting the local downtown businesses, eating good food or at Santa Rosa Park hitting the Skate Park and shooting some hoops.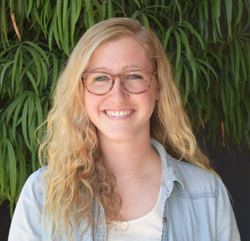 Lauren Callahan is our Boston-Native production assistant. Although Lauren is our newest production assistant, she's already made a big impact at Left Coast. When she's not here she loves to practice her art, enjoy live music, and take advantage of the Central Coast trails and beaches. You will always find her wearing a smile and having a good time.
We only had a vague idea of what we wanted, but needed it quickly. The team at Left Coast was able to help us clarify our idea and get it to us ahead of our deadline. The shirts turned out better than we could have imagined. They were simply for our staff, but we had others asking us where they could buy them. Thank you Left Coast team for all of your hard work and imagination.
Greg Waters
Production Coordinator, Wild Horse Winery & Vineyards, Templeton, CA