Left Coast T-Shirt Company - Meet Our Staff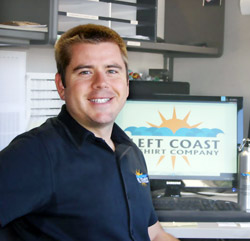 David Whitaker started Left Coast T-Shirt Company, his second business, in early 2003. He started his first business, an ecommerce company, in 1999 while simultaneously studying computer science and working as a programmer at Cal Poly, San Luis Obispo. A desire to save on printed apparel for his existing company led him to begin his own screenprinting operation which eventually moved to the forefront. David sold his first business, the ecommerce company, in 2006, after simultaneously running both companies for three years. He then turned all of his focus to operating Left Coast T-Shirt Company. As with most residents of San Luis Obispo, he does whatever he can to find some time outdoors. In fact, on any given day off he may be found scuba diving, rock climbing, swimming, biking, running, or traveling.
David is also a graduate of Leadership SLO, class 17, and an active participant and volunteer at the San Luis Obispo Chamber of Commerce.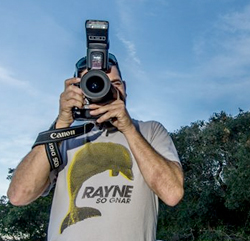 Adrian Piña is our skilled graphic designers and Photographers here at Left Coast. Born and raised in Los Osos, Adrian moved to Long Beach to attend college and graduated with a 4.0 GPA as the salutatorian of his class. He has since moved back to the Central Coast and has two beautiful children. He is passionate about all things skateboarding-including skateboard art!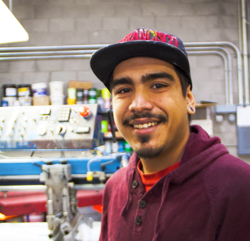 Sam Spevack Our highly seasoned printing press operator here at Left Coast, Sam is SLO raised and Life long resident. On his free time Sam enjoys play guitar, listening to music, playing golf and time with his animals.

Left Coast T-Shirt Company is just an amazing company to work with. They have done many event t-shirts for us, many times on a tight schedule, and they always come out great and on time. They also have wonderful customer service, always smiling and truly helpful. Left Coast has also given back to the community by sponsoring the Family Care Network's Miracle Miles for Kids three years in a row. If anyone asks for a t-shirt printing place, Left Coast T-Shirt Company is always my first recommendation.
Heather Hayes
Administrative Coordinator, Family Care Network, Inc., San Luis Obispo CA