Left Coast T-Shirt Company - FAQ's
What can I do to make my order go as smoothly as possible?
Left Coast T-Shirt Company provides custom design and print work. Because of this, our customers need to be active participants throughout the process. The best thing you can do is to be clear about what you want and to respond to our emails in a timely manner. The faster you approve proofs and invoices, the faster we can print and ship your order. We can only stay on schedule if the customer does the same.
---
What is screen printing?
Screenprinting is an old, popular, and reliable method of applying a design to fabric. The process uses mesh screens stretched over frames with all but a stencil of the desired image blocked out so that ink can only pass through the mesh screen where the stencil is open. Ink is pressed through the mesh via rubber squeegees, on a computerized pneumatic press. Every color printed requires a new screen. After the complete design is on the shirt, the ink is cured and made permanent with a curing process. Common screenprinted items include t-shirts, balloons, and decals.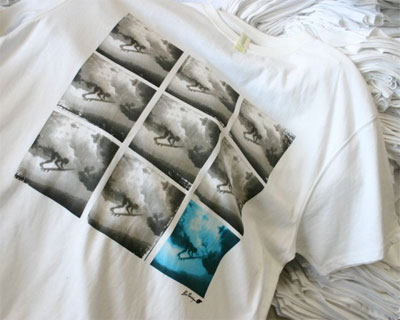 ---
What is embroidery?
Embroidery is the process of using colored threads to sew a design onto fabric. Our embroidery is done with automated sewing machines that build your design one stitch at a time. Commonly embroidered products include hats, jackets, and polo shirts.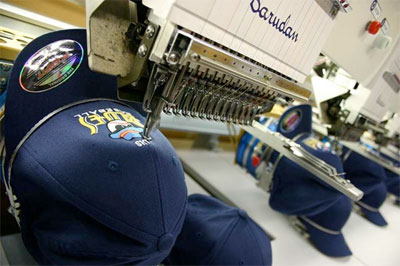 ---
What is digitizing?
Digitizing is the process of turning your art into a file that our embroidery machines can utilize. The process requires an experienced digitizer with a very thorough knowledge of embroidery. The digitizer takes your art and manually chooses where thousands of stitches will be placed to yield the most aesthetically pleasing finished product. It is a creative and skilled process that takes a long time to learn.
---
Which costs less, screenprinting or embroidery?
It depends. For smaller orders, embroidery is usually less expensive. When dealing with large numbers of items, screenprinting tends to be more affordable. This is, however, highly dependent on what kind of garments you intend to use and on the specifics of your art.
---
What types of t-shirts do you typically print on?
Our standard shirt is a Heavyweight 6.1oz, white, cotton t-shirt. This is as heavy a weight as typical shirts get. Many companies use 50/50 tees, or lighter-weight 5.2oz cotton tees. We use a high-quality, heavy-weight shirt as our standard because we are very serious about the wearability and longevity of each item that goes out our door. We regularly print on garments of all shapes and sizes and have an extensive catalog of choices.
---
What types of garments do you carry?
We carry thousands of different garment choices. In fact, there are far too many to put into one catalog, or on one website, so we only usually show the typical items. If you have something specific or obscure in mind, let our customer service representatives know what you're imagining and we'll more than likely be able to find something in our extensive selection that meets your needs exactly.
---
Can you sew custom tags into my garment?
Yes we can. Ask your customer service representative about tag pricing and options.
---
What colors do I have to choose from?
For all intents and purposes, your imagination is the limit here. Most garments are available in a number of colors. Screenprinting inks can be mixed to match any color. We also carry specialty inks including metallic, glittery, and glow-in-the-dark colors. Embroidery threads are available in 30 standard colors, but we can also special order thread for your project if none of our standards will work.
---
How do I place an order?
The easiest way to place an order is to visit us at our office, especially if you are a first-time customer. We have an abundance of catalogs and garment samples to help you decide exactly what you want. If you are out of the area and can't visit us in person, simply call us at (800) 900-4536. Our customer service representatives will guide you through the order process, make sure that all your questions are answered, and see to it that you get the best value possible on your order.
---
How does your ordering process work?
When you come to us with an idea for some custom printed goods, we first take a look at your project and establish a schedule to make sure that you can get your order finished on time. If the schedule is agreeable and we move forward, then the next step is for us to prepare a proof of your design. When the proof is finished we will send it to you for approval. We cannot move forward with production of your items until we get your approval of the proof. If the items are apparel, and have very specific color and size combinations then we will also need you to approve an invoice with the items on it before production can begin. We will do our part to get you the proof and invoice for approval according to the initial schedule. The best way to make sure you get your items on time is to approve everything, or let us know of changes, in a timely manner.
---
Do you give quantity discounts for multiple orders?
The quick answer is sometimes. We have several different incentive programs for companies that regularly order from us. If you think you may qualify, don't hesitate to ask your customer service representative about it.
---
How do I provide you with my art?
The best way to get us your art is to either email it to us or swing by the shop and show us in person. We can design from any type of file, though original files are best, and if possible we like to receive the design in both a vector format and as a PDF. This is, of course, not required; we can work with any file type and even create your art from scratch if you need us to. Please see our helpful Artwork Guidelines for more details.
---
What types of art can I give you to design from?
Our designers can use anything from a sketch on a napkin to the design in full vector format. Of course, the more complete and professional your design, the easier it is for us to work with. But, if you don't already have access to this kind of design work, we can provide custom, professional design from scratch. This means that all we really require from you is a concept and a direction. For more information about file types and design tips see our helpful Artwork Guidelines.
---
How much does it cost if you design my shirt for me?
We provide one free hour of professional graphic design work with every order, after that we charge $60.00 per hour. We prefer that no one has to pay for design work, so we'll be flexible. Very rarely do our customers require more than their free hour of design, but if your art is especially complex or if you require multiple redesigns, then expect to incur some fees. See our helpful Artwork Guidelines for more details.
---
How long will my order take?
We typically ask for two weeks to order, design, print, and ship your garments. However, the process is reliant upon your approval and your guiding ideas, so checking and answering emails regularly and quickly helps us to complete your project and meet your deadlines. Seasonality can also be a factor. We can also usually rush orders, if it is needed.
---
Can you rush my order?
Yes, we usually can. In fact, as long as we can fit your rush order into our production schedule without requiring any over-time work from our employees or expedited shipping from our vendors, we'll do it for free. But, if you want to rush an order in when our production schedule is full, then we may not be able to or we may have to charge you for the overtime work hours.
---
What is the minimum number of shirts I need to order?
Our screenprinting minimum is 36 pieces for 1 Color, 48 pieces for 2 Color, and 72 pieces and up for 3+ Color.
Our embroidery minimum is 36 pieces or $500.
---
Where can you ship to, and how long will it take to get there?
We ship to anywhere. Please reference the UPS map to determine the exact time for your location.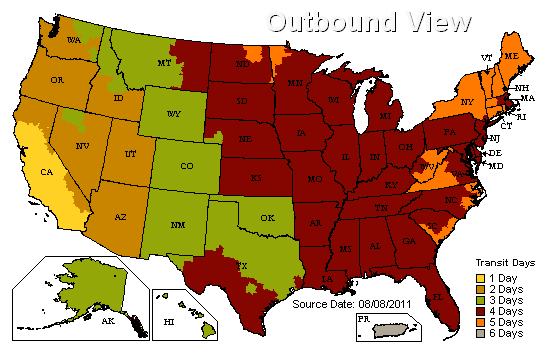 ---
What are price breaks and how do they work?
A price break is a reduction in per-unit cost as the number of total items in an order grows. Our pricing is based primarily on quantity. For example, if you order at 288 shirts, then you will pay less per-shirt than if you were to order 48 shirts. Our customer service representatives will help you use our price breaks to your financial advantage.
---
Can I mix and match items?
Yes you can! In addition, the total number of items ordered is what determines your price break. In other words, if you need exactly 100 t-shirts, and 50 sweatshirts and the design for both items is the same, then both the t-shirts and sweatshirts will be priced at the 144 price break. It would not be 100 t-shirts at the 72 price break and 50 sweatshirts at the 48 price break.
---
Are there any additional costs such as set up, screen, or design time fees?
We do not charge extra for set-up fees or screen fees on screenprinted items. We also provide one free hour of professional design work with each order. Unless your design is particularly complicated or time-consuming, this free hour should more than cover your work. We do charge a one-time digitizing fee on first time embroidery orders only. This fee is determined by the complexity of your design and can sometimes be waived entirely. See our helpful embroidery tips section for more details.
Left Coast is always my go-to source for printing and embroidery. Even on a very short timeframe they are always able to get my order to me in plenty of time, hassle free, and still within my budget.
Molly Cano
Director of Sales & Marketing, San Luis Obispo County Vistors & Conference Bureau